Our Story
Meet our four founders
We believe that there is a better way of bringing brands to the market. We are challenging the model of large organizations and slow processes. We believe that all that is needed is a strong, well trained, professional small agile team not afraid of getting their hands dirty.
We want to make a difference, contribute to the future. Our jobs should contribute with more than money. We want all people to eat better, more healthy food with less E-numbers, less sugar, i.e. proper food. We look for making better alternatives available in the categories we are present in.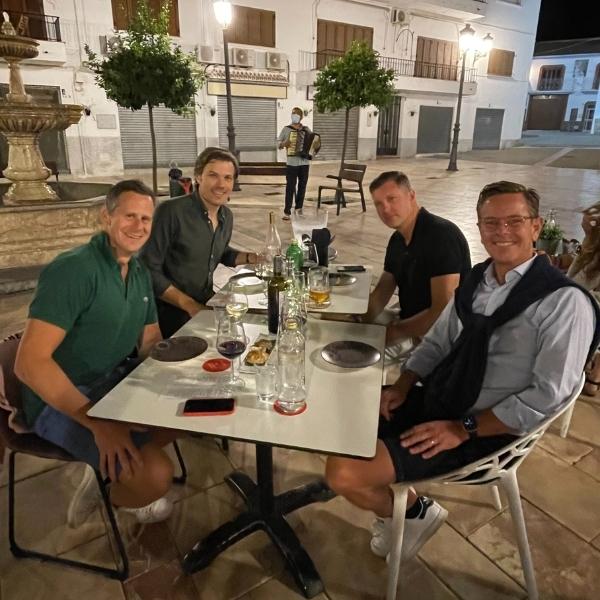 Our manifesto
Our manifesto and driving force for running Vitaseege can be summarized in some rather simple but clarifying words that shines through in our everyday interactions with colleague's principals and customers. It describes the way we see the world and how we work together.
Personal
Business is built on trust and personal relations. We are a small tight team of four working together and close to all our principals and customers.
Dedicated
We have chosen to work within retail and love everything what we do, and also know how to do it right.
Professional
To be successful you have to have the right persons around. Our small professional team has extensive experience that we love to share with others.
Agile
Large companies tend to have long and slow processes. That is NOT how we like it.
Still hungry
The more time we spend and the longer experience we get from food retail the more we want to dig deeper into it to learn more. Retail is detail!
Fun
When we manage to fulfil our manifesto life will be better and our work more fun.
It all started in 2018. After 20 years + in senior positions within multinational companies, the four of us all were looking for a change in our life
"Four FMCG-professionals in search for change"
To be frank we were pretty fed up with corporate bullshit, endless meetings, templates, slow processes and the feeling of newer getting down to business. All the stars were aligned, and we got together and decided to CHANGE the business is in FMCG and founded Vitaseege Sverige AB.
Today we are an agile partner for local and international companies, providing tailor made market solutions to reach the 27 millon Nordic consumers. At present we are managing sales of 8 million Euro and growing.
Magnus
One early morning Magnus woke up and felt his business development director role did not give him the kick he was looking for. It was time for change. The week after he resigned looking for new adventures.
Jakob
Jakob moved back from Norway with his family after a couple of years as CEO at a Danone-company and was ready for a change and new challenges.
Christoffer
Christoffer sold his company after 7 years in the gift voucher business and searched for a change longing back to the FMCG industry.
Robin
Since many years Robin was successfully managing the family business of Vitaseege Finland. In order to widen his perspective, he decided to appoint a successor and move to Sweden.
Sounds like a good match for your brand?
Customized solutions for optimal growth
"Vitaseege did an amazing job launching and growing Danerolles in Sweden!"
"We decided to corporate with Vitaseege as we met them as professional, experienced and progressive partner for the Swedish market."